posted by

mojotastic
at 12:20pm on 23/12/2009 under
music
,
music spam
,
picspam
So! I can't believe the year is almost ending. Goodbye 2009. Goodbye aughts! The 00s have been sort of the worst decade ever though so...maybe I should be like hello 10s? Seriously though, think about the last ten years. 9/11. Katrina. Bush (twice!). The worst economic meltdown since the Great Depression. The Twilight Saga. I mean this year alone we had all those celebrity deaths too. (seriously?! Brittany Murphy?! WTF!) So let's hope 2010 is a little less wonky.
Anyway I was planning on a doing a bunch of best of lists for the year but then I realized that ermmm I don't think that many movies were all that great this year? Or perhaps I just didn't see enough movies for a top ten? And TV is always hard to do 'best of the year' because TV seasons run September to May not January to January. (For instance HIMYM was awesome and delightful at the end of the season last year but has sucked like a hoover this year so where does that leave it exactly?)
So instead I will be doing
Top Ten Albums of the Year
because music is easy and I'm obsessed with it! Also my insanely long commute this year has allowed me time to listen to more whole albums instead of doing playlists. So without further ado:
Top Ten Albums of 2009! Plus music!
10. School of Seven Bells- Alpinisms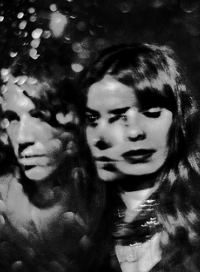 To be honest, about three other different albums almost got this spot. I was honestly surprised at how decisive I was with all the other selections on the list. I'm frankly shocked that the number ten spot was the only one I had such trouble with. This almost went to Imogen Heap, Matt and Kim or Anya Marina. But School of Seven Bells won out because a.) their music is interesting and ethereal sounding, even if it doesn't always hit the mark with me and b.) I saw them in concert back in February and they were awesome. Also the album deserves this spot, frankly, just for Half Life and Face to Face on High Places, which are songs so good that for a long time I couldn't even get past them to listen to the rest of the album. They've got a great sound though, very eastern and gypsy-ish so their name is fairly accurate. They're not a very well known band so I'd suggest anyone who hasn't heard them to give them a try.
MP3:
School of Seven Bells- Face to Face on High Places
It's safe to say, saving you. Saved me.
09. Lady GaGa- The Fame Monster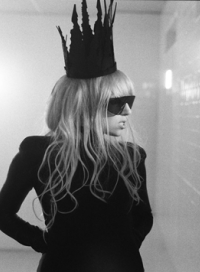 Honestly the GAGA would have been higher on this list but her new CD , which was packaged in with her CD from last year, was only like 8 songs. They were 8 great songs but still. Lady Gaga is great for a lot of different reasons. Most of them revolve around her being completely batshit insane in the most engrossing and hilarious way possible. But honestly her music is also really awesome, really fun pop music. I loved the GAGA when I first heard Paparazzi in the s2 premiere of Gossip Girl, before I knew Lady Gaga liked to wear
those McQueen satan shoes
or
dresses made of kermits
. She's one of those rare cases where her straight up crazy only enhances her music. Also she would end up on this list just for her Bad Romance video:
MP3:
Lady Gaga- Bad Romance
I want your lovin, I want your revenge, you and me could write a bad romance
08. Kelly Clarkson- All I Ever Wanted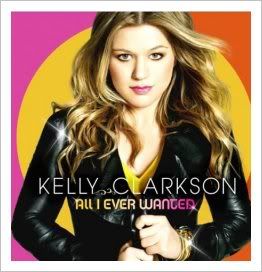 I've read a lot of reviews that called this album a return to form for Kelly Clarkson, like her last album was unspeakably bad or something. Her last album was great but in a quieter, almost more indie way that you wouldn't expect from Kelly Clarkson. I'm glad she fought to put that album out. That said, it was nice to get some classic Kelly upbeat songs. And I could listen to My Life Would Suck Without You a million times.
MP3:
Kelly Clarkson- My Life Would Suck Without You
Being with you is so dysfunctional, I really shouldn't miss you, But I can't let you go
07. Miike Snow- Miike Snow
Like a bunch of new songs and artists I love now, I discovered this band through the greatest show of our time, aka Gossip Girl. The show played Animal and I listened to it so much I thought I'd give the rest of the album a try and I'm super glad I did. Their music is really interesting and has a certain lightness without veering into that indie territory where every song sounds the same.
MP3:
Miike Snow- Silvia
And you tell yourself you wont let them touch, did I say too much did I say enough, I don't know Sylvia
06. Bat for Lashes- Two Suns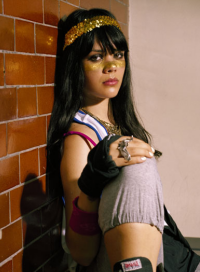 Oh man, I love Bat for Lashes. She's just fantastic. And I'm glad that everyone else seems to be loving her at the moment too. I fell in love as soon as I heard Daniel. My friend

pinkspots
told me to download that song and I must have listened to it a billion times. It took me a little longer to warm up to the rest of the album but now I love it. Siren Song is amazingly good too. It's funny, I was listening to the album on the train this week and I couldn't stop thinking of Merlin. I know, geek confession! But seriously, her music has this sort of ethereal, almost medieval-ish quality to it. Plus Siren Song is a great Morgana song.
MP3:
Bat for Lashes: Daniel
And when the fires came, the smell of cinders and rain, perfumed everything, we laughed and laughed and laughed
05. The Temper Trap- Conditions
Like the rest of the world I first heard The Temper Trap on the (500) Days of Summer soundtrack. And while Sweet Disposition remains my favorite song on the album, the whole rest of the album is actually fantastic. I can listen to Love Lost over and over. I'd recommend everyone give them a listen. Although the cover of their CD freaks me out. Their music is so light and airy and their CD cover looks like Mordred about to 86 someone. O_o Creepy! Their music is really good though!
MP3:
The Temper Trap- Sweet Disposition
sweet disposition, never too soon, oh reckless abandon, like no one's watching you
04. A Fine Frenzy- Bomb in a Birdcage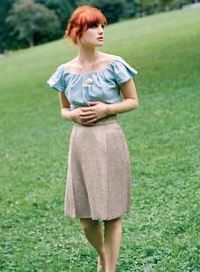 For the next four I can be completely honest when I say that I loved EVERY song on the album. A Fine Frenzy is SO great. I loved her last CD but I'll admit that there were some songs on it I just wasn't that crazy about. I know Almost Lover is the song of hers that's well known, but honestly it runs a little too slow for me. But on this CD I honestly loved every. single. song. In fact there are three songs from this album on my Top 25 Most Played playlist on my iPod. That's serious love. I can't even single out what it is that makes me love this album so much. Alison Sudol has a great voice, and all her songs are so light and cheery and yet full of emotions. It felt like her sound really matured on this new album and I can't imagine how blown away I'll be by her next one. Also I saw her live and she's ~amazing~!
MP3:
A Fine Frenzy- Stood Up
There two of us, there will be more, we stood up. We stood up.
03. Yeah Yeah Yeahs- It's Blitz!
Again, another CD that I can literally just play on a loop and never get tired of. Also, the first Yeah Yeah Yeahs album that I've actually loved straight through. I've been in love with Maps since forever but for whatever reason I always felt like they never really lived up to that one song with any of their other stuff. I like some of their harder edge stuff (Phenomenon is great, despite the fact that it disintegrates at the end) but sometimes it felt like they were just, IDK, trying too hard to be ~hardcore~? I'm really not into dissonance. So despite the fact that I generally liked the Yeah Yeah Yeahs I was never really that into them. And then this album came out and I was like O__O! It's so pretty! And the acoustic versions of some of the songs are just straight up gorgeous. I'm so glad they decided to step out of their rock comfort zone and do this album because I love it.
MP3:
Yeah Yeah Yeahs- Soft Shock
02. Mertic- Fantasies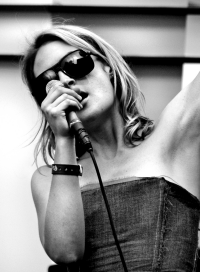 So, first off I love Metric. I discovered them a year or two years ago and have seriously loved them since. I could pretty much listen to Soft Rock Star every day of the week. So obviously it's a HUGE compliment for me to say that this is my favorite of all their albums. Start to finish I can just listen to it over and over again without getting tired of it. All the songs are that amazing. I feel like every time I listen to them I find something new and awesome. I can't even really decide which song is my favorite from the album because my favorite changes every time I listen to it. This is one of those albums, like pretty much anything by Stars, that I know will be a classic for me that I'll always listen to all the time. I've also seen Metric twice in concert and they're one of the best, if not THE best live band I've seen. Emily Haines is my role model for life.
MP3:
Metric- Help I'm Alive
I tremble, they're gonna eat me alive, if I stumble, they're going to eat my alive. Can you hear my heart beating like a hammer?
01. Florence and the Machine- Lungs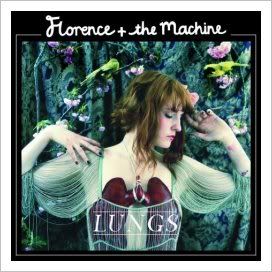 When I was putting together this list the number one spot wasn't even a decision. Of course it was going to be Florence and the Machine.

cilly
put one of her songs on a playlist this summer and I kept listening to it over and over again. Finally I tracked down the whole album and was just bowled over by how amazing she is. I literally listened to it practically every day for a few weeks and literally had to force myself to listen to something else for fear of running it into the ground. I love how interesting and original her songs are. I love how all her songs sound different but they all fit her style perfectly. I love every song on the album, even the ones I didn't like so much to begin with. If I had to suggest everyone download one album from this list, this would be it. Seriously, she's amazing. You won't regret it.
MP3:
Florence and the Machine- Howl
The fabric of your flesh, pure as a wedding dress, Until I wrap myself inside your arms I cannot rest, The saints can't help me now, the ropes have been unbound, I hunt for you with bloodied feet across the hallowed ground
Honorable Mentions:
-Matt and Kim: Grand
-Anya Marina: Slow & Steady Seduction, Phase II
-Rihanna: Rated R
-M. Ward- Hold Time
-Placebo: Battle for the Sun (Not a super great album but my many year love affair with Placebo means I want to mention it anyway.)
ETA:
Imogen Heap- Ellipse (Oh man I can't believe I forgot Imogen Heap! She almost ended up at number ten! I even did a graphic with her album cover before changing my mind! Everyone go and download Wait it Out!)
Why is it so hard to write coherently about music? I find myself just going "IT'S GOOD AND SOUNDS PRETTY AND MAKES ME EARS HAPPY OMGOMGIDK!" I'm so ~eloquent~.
~Morgan