posted by

mojotastic
at 11:43am on 10/01/2011 under
music
,
music spam
,
picspam
So! It's been a whole week into January but I never post anything on time anyway! I wanted to do a top movies or top TV show of 2010 picspam but I got lazy. Plus TV shows are hard since they run September to September and frankly I'm not sure I can even think of ten movies from this year I liked all that much. (The list would be Inception! Inception! INCEPTION!)
Instead I did my Top 15 Albums of 2010. I did a
Top 10 of 2009
last year and it's really fun to look back on. I decided to expand the field this year because there were a lot of albums that I really liked (without being crazy in love with like with Florence or Metric last year). Also apparently I am terrible about talking about what I like about music? I would be a really terrific music reviewer apparently. "THIS MAKES ME HAPPY! THIS SOUNDS REAL NICE! I LIKE THE PART THAT IS PRETTY!"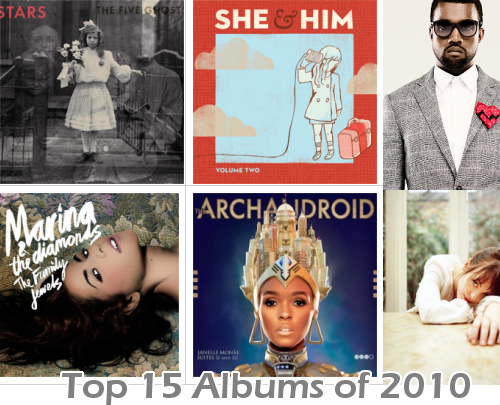 ( TOP 15 ALBUMS OF 2010 PICSPAM! With bonus music! )